Fishing Independence Creek WA Pages, Welcome!
If you are considering fishing on Independence Creek in SouthWest Washington State you found the source! You may notice there is very little good information about where to go and what to do to be successful. We will be adding Fish Reports and Fishing Tips as we we gather more information and experience for those wanting to fish Independence Creek. We will also be scouting for public fishing access on Independence creek and give you maps and regulations as those become available.
Fishing Opportunities on Independence Creek: Native fish can be found throughout the Independence Creek. The creek is a tributary of the the Chehalis River drainage. Fish that can be caught in Independence are the same as the Chehalis including; Coho Salmon, Silver Salmon, Steelhead, Sea Run Cutthroat Trout. Independence Creek also holds crawfish, catfish, bluegill, smallmouth bass, and forage minnow species.
Fishing Tips for Fishing on Independence Creek in Southwest Washington: We have included a section for fishing tips we have gleaned from our own experience as well as others fishermen in the area. See fishing tips below by fish species for more information.

Sea Run Cutthroat Trout Fishing Tips on Independence Creek: The cutthroat trout is one of the most aggressive feeders of the trout species. Fishing for these aerobatic hard fighting trout is a blast and often ends with a broken or tangled line in neighboring brush or log jam! Use small spinners in patterns that match the hatch or forage minnows. Castmasters in sliver, bronze, blue and silver, chartreuse and silver, work very well. Using spinners in small streams with heavier cover foliage can be challenging! Fly fishers using streamers in the same color patterns on small fly poles can have a little better control and avoid sinking to the bottom on slower retrieves. Cutthroat Trout love shrimp baits and crawfish tails that have been peeled. Crawfish can be found in the creek in reasonable numbers if you want to try them out.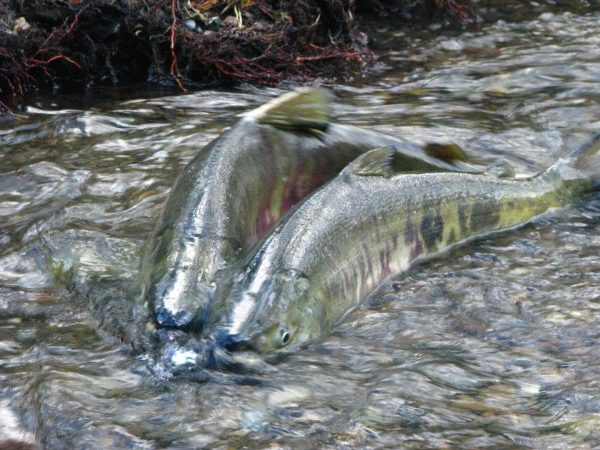 Salmon Fishing Tips on Independence Creek: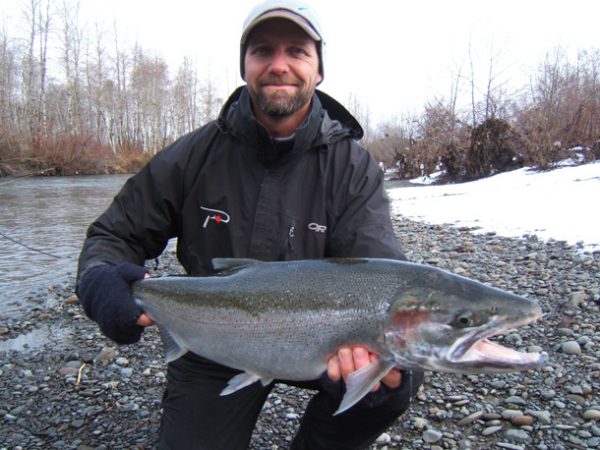 Steelhead Fishing Tips on Independence Creek: Something most people don't realize is how big Steelhead can get in the Independence Creek. The huge steelhead that come up the Chehalis River also come up Independence Creek. Now try to imagine landing one of these huge steelhead ripping down a small wood infested creek! Get the picture? Huge possibilities abound with many huge breakoffs if you manage to hook one! The Chehalis is one of the best Steelhead fisheries in the entire Pacific Northwest period. You can watch videos of guides pulling in up to 25 large steelhead in a single float trip. These same fish head up the Independence Creek and Lincoln Creek tributaries. Fishing tips for Steelhead in Independence Creek are the same as fishing Steelhead in the Chehalis River. You will need to adjust your terminal gear to match the stream size and conditions. Shorter poles, heavier leaders, and small floats to keep bait in the sweet spot longer and avoid breakoffs. Roe, shrimp baits, nightcrawlers with a bead, beads alone, and strike provoking metallic lures are all popular and effective options. Because of the small stream size stalking a hole slowly and carefully so as not to be detected is more important than lure or bait choice. These fish are not seeing other lures or bait once they arrive in the creek so they are not bait shy if you remain concealed. Good luck fishing for and landing Steelhead in Independence creek!
Photo Credit for the above photo goes Pautzke Baits. You can read the full article about Chehalis River Steelhead which come up the Independence Creek at this link:  Chehalis River boasting Huge Steelhead gets big fishing boost!
Physical Characteristics: Independence Creek in WA State is really what most fishermen would call a "medium sized stream." Independence Creek flows year-round and is fed by the surrounding mountains in the Independence Valley. The average width of the Independence Creek is 15′ to 25′ feet wide and it flows fairly slowly in the valley areas and faster in higher areas as it descends from the surrounding hills and mountains. In some places the creek is much wider, up to 40′ feet across, and much deeper up to 10′ feet deep, mostly due to beaver dams and elevation changes. The stream bed composition of Independence Creek varies from sandy with mixed sized pebbles to all rock bottom areas and also has a clay bottom in some areas. One of the interesting aspects of Independence Creek is the stream banks rarely erode even in very high flood stage due to the clay present in the soil profile. Ancient Lahars from Mount Rainier passed through the Independence Valley depositing rock sand and stone. The area  is now considered "out" of the Lahars jeopardy zone because of distance and infrequency of catastrophic eruptions.
Beaver Dams and Ponds on Independence Creek: Most of Independence Creek drainage in the Valley areas has beaver dams and beaver ponds. This does create some challenges for Salmon and Steelhead returning to spawn but most dams are lower in height and not to terribly hard for salmonids to jump. One of the dangers is when Salmon, Steelhead or Cutthroat Trout attempt to  jump the beaver dams they can get trapped in the sticks and logs beavers stack up in their dams. Bears seem to do regular checks on the more challenging beaver dam jump areas and pick them out of the sticks for a tasty breakfast or lunch. Some beaver ponds are very long up to 1/4 mile or more long holding resident fish and migrant sea run cutthroat trout, salmon smolts, and steelhead smolts. The baby fish use the long grass and dead sticks to hide from predators that eat smolts such as Salamanders, Egrets Crows, Eagles, Osprey, and Great Herons. Water quality in the hot summer months can cause smolt death and farmers should never deplete the flows from the creek for irrigation for this reason!
Location: The Independence Creek flows through the Independence Valley near Rochester, WA and to the NorthWest of Centralia, WA in SouthWest Washington. The creek can be accessed by driving North on Lincoln Creek road or South West on Independence Rd. The Independence Creek dumps directly into the Chehalis River which one of the best fishing rivers in all of Washington State. For this reason some of the great fish migrations in the Chehalis River are headed upstream to tributaries and creeks such as Independence Creek. As always be careful to get permission to fish from the respective landowners in the area to avoid an unfortunate incident. Most landowners in the area also hunt and fish and patrol their lands with firearms.
Independence Creek Ecology: The Independence Creek drainage runs through Pristine Riparian Conifer and Hardwood Forests with numerous beaver dams and ponds. The forest is still very undeveloped around the creek with the exception of quaint farms and some logging activity. Some areas can be hard to navigate due to the Vine Maple trees growing horizontally and from being downed by beavers. Many broadleaf tree species can be found in the rich riparian community along the banks of Independence Creek. Forage plants are abundant such as salmonberries, huckleberries, blackberries, currants, wild strawberries, Oregon grapes and more. The dominant species of hardwoods growing in the area are Big Leaf Maple, Alder, Birch and Aspen. Salmon, Steelhead and Cutthroat Trout have suffered a decline as in most small tributaries in WA for many different reasons and we recommend catch and release only to assist in helping the Independence Creek rebound from its current decline.
Wild Animals on Independence Creek WA: There are abundant black bear, deer, elk, cougars, porcupine, coyote, wild dogs, eagles, hawks, egrets, osprey, heron's and the occasional wolverine or badger on Independence Creek. If you believe in "Bigfoot" then watch out for those too because due West is the site of one of the best documented "Bigfoot" encounters of all time lasting months with multiple encounters. There are almost no homes towns or roads between Independence and the Pacific Ocean approximately 40 miles West. It is said you can hike all the way to the Pacific Ocean without crossing more than 3 small county roads that are in the middle of nowhere. Be cautious! Take care to look over your shoulder and stop and listen frequently. This area has the most cougars reported lately and every farm has a bear or two that leave evidence behind. The Lincoln Creek pheasant release is nearby releasing thousands of pheasants yearly in November and the winter months. I have not heard if we have wild turkey in the area but I remain hopeful that there may be some!
Public Access to Independence Creek WA: Independence Creek does not have any public access for fishing that we have encountered unless you were to fish on the county road over a bridge which is generally prohibited. Most of the land accessing Independence Creek is owned by private citizens and If I was to venture a guess I would say about 60% of the land is owned Weyerhaeuser Forest Products company.
Independence Creek Fishery Restoration: We are very dedicated to improving the fishery and habitat to help restore Independence Creek to its natural vitality. We look forward to a day when Independence Creek is once again a top rated native salmon, steelhead and cutthroat trout fishery. We will be requesting a permit to raise native cutthroat trout, steelhead, and sturgeon on the property. We may also sponsor creek cleanup activities and habitat restoration after discussing options with the local wildlife biologists.
Resources fir fishing on Independence Creek WA:
We will be including other websites that mention fishing on Independence Creek as a resource to our readers below.
Here is a link to the article on Independence Creek Fishing from the www.hookandbullet.com. The artcile which includes a directory of nearby streams and rivers can be found at: https://www.hookandbullet.com/fishing-independence-creek-rochester-wa/