Chickens for Sale in Southwest Washington State
We are selling chicks and chickens of the top breeds suited to Southwest Washington State. Our chickens and chicks are local hardy varieties tested for the Southwest Washington climate.  Our chickens for sale are close enough for pickup at our farm from the cities of Olympia WA, Tacoma WA, Seattle WA, Rochester WA, Centralia WA, and South to Portland, OR. We are located a few miles off Highway 12 in Washington near Oakville, Adna, Edna, and Aberdeen Washington. Below we have listed the types of chicks poults hens and roosters we have available throughout the year.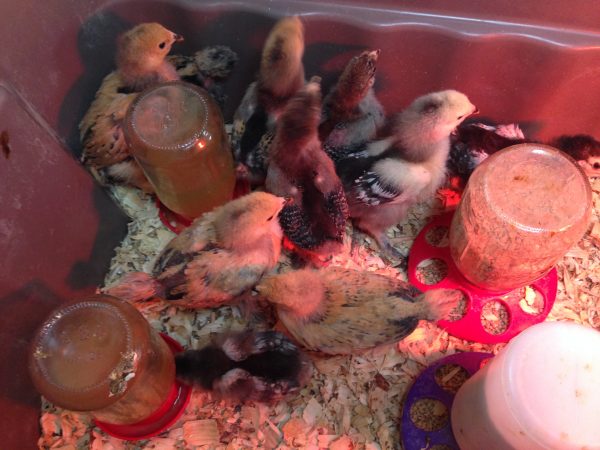 Brahma Chickens for Sale – We have very nice Buff Brahmas or "Light Brahmas"and Dark Brahmas for sale if you are looking for a very large and very friendly chicken breed for your farm. Brahmas have been called the friendliest chicken of them all, and they are great mothers to thier chicks too! Our Brahmas even chip in to help raise and protect chicks that are not their own, and share the duties of motherhood with other chickens broods.
Black Copper Maran Chickens for Sale  – Black Copper Marans chicks are one of the most sought after chicken breeds due to the dark brown eggs they lay and the ease of rearing them. They are fairly hardy once they get some size to them and they can generate some nice revenue for small farms by providing fertile eggs for hatching and tasty eggs for cooking.
Icelandic Chickens for Sale – We have a breeding group of Icelandic Chickens and chicks available that are very hardy and are even good at fighting off winged predators such as Owls. Icelandic chickens have many color types and are a field run chicken which means they have survived over time in cold and warm weather and come from the best survivors genetics.
Sussex Chickens for Sale – Sussex chickens are absolutely one of our favorite breeds for the Washington State climate, but more so because of thier awesome breed attributes.  I personally rank these chicks as the "friendliest chicken breed bar none." The other thing amazing thing about Sussex chickens is they will be the first to catch a mouse, a worm, a small snake, and be right there with you while you dig a hole or trench. They even jump into the hole your digging to grab worms and bugs you don't even see. Sussex chickens seem to be the flock leaders and form family type bonds with Brahmas and thier human owners. Our Sussex chickens will jump onto your lap when they want to be held and will follow you all day jumping on the treats you uncover while doing farm chores.
Easter Egger Chicks for Sale – We have a excellent brood flock of Easter Egger Chickens also known as Araucanas or Ameraucana Chickens. These beautiful chickens have lots of color combinations that fall into the colors of brown red cream black and some even look like quail when they are chicks. It is true that they lay colored eggs which are frequently green or bluish. Araucanas and Ameraucanas are hardy and self reliant chickens even when in the minority of a mixed flock. They seem to defend themselves well and rear chicks very well too!
Blue Cochin Chickens for Sale – Another favorite heritage chicken breed of ours for the climate and conditions in WA State is the Blue Cochin. These beautiful larger breed are great moms and can be very broody. Broodiness can be good if you want to hatch chicks from less broody breeds. Our Blue Cochin chickens became very friendly  after a year or so but were a little solitary at first and stayed in the coop much more than the other chickens. They have fluffy feet that many people find cute and the fluffiness they have is one of a kind. They lay well and are quiet and less aggressive.